Our SEO agency is here to help small and medium sized local businesses to grow, whether you own a stall in the North End Road Market, a local shop, a restaurant or offer services to residents of Fulham. As Google put more emphasis on local search, it is the time to act and build your local strategies. Your target community needs to find you instantly. There are more than 180.000 potential customers live in the Borough of Hammersmith & Fulham. These people search Google for local businesses and services, but if your website isn't showing on the first results, or on the map area, you lose these local customers. When you search your products or services on Google, does your business's name pop up first? It should! At ChelseaSEO, we will work to make it happen!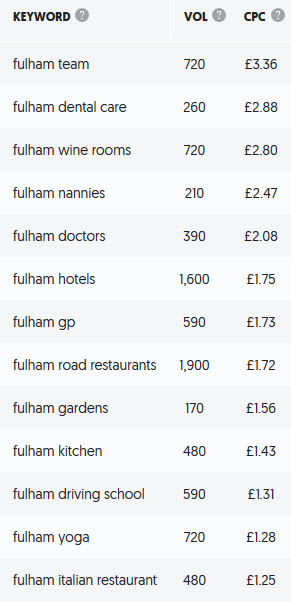 What is Local SEO in Fulham?
Search Engine Optimisation is the process of using on-site and off-site tactics to reach a higher search engine position. It grows the number of visitors, bringing in more leads or sales. Local SEO is the same, but focuses on a local area, such as Fulham. For example, if you are a local plumber, ideally when someone search Google for "emergency plumber in Fulham" finds your website. Our local SEO company could work on making this happen. Our primary goal is to bring your business more traffic, qualified leads and better exposure. That's all how our London SEO Agency can help you!
How Our Local SEO Campaign Look Like?
Analyse your website and it's competitors
Planning a long lasting strategy
Implementing our best techniques
Review results over next few months
There's no simple and easy solution when it comes to local SEO, every business' needs are different. Whether you're a charity, interior designer, locksmith, or plumber, we will improve your business' online presence and help you to dominate your local market. Our service doesn't stop with Google, our goal is to make your business visible regardless of which search engine they use. whether it is Yahoo or Bing. For small businesses, SEO can be difficult as if you don't have the expertise and the technology, you can't effectively work on it. That's where we come in!
A well-designed campaign is critical for any small local business that wants to succeed. Our first priority is to secure a spot in the top three results of the "local map pack". Being one of these top three listings gets you a lot more visibility and organic traffic.
The Process For Local Websites
1. We make an in-depth analysis of your website or develop a nice one if you haven't got yet. We analyse your targeted customers, your business type.
2. We fix website errors, do mobile friendly test, and apply on-site techniques (locally optimised title tags, meta descriptions, header tags, optimised URLs, image optimisation for size & search engines, etc)
3. Site speed is extremely important as Google has declared that loading speed is a ranking factor in their algorithm. Also when loading time is slow, you will deter customers from sticking around and they will leave. We are working on to make your website load faster.
4. Setting up Schema Markup is a way to stand out from the crowd. It tells search engines to display information in the result pages such as type of business, reviews, hours of operation, and more.
5. Keyword research is very important, we are looking for keywords that have a good search volume, have lower competition, and are highly targeted to Fulham. It will likely take at least nine months or more to achieve results on the first page of Google in a market of London, so first we focusing local visitors.
6. Relevant, unique, and insightful content about your business is a game changer. We create highly targeted and specific content in your niche with focusing to Fulham.
7. Registration and / or optimisation of Google My Business, Bing Places, Yahoo Small Business, Yelp, Yellow Pages, local citation building.
8. Analysing your competitors and their strategy. Including: their content, topics they write about, citations, backlink profile, etc.
9. Social media can have a big influence on local visibility. We keep your profiles updated and active across the platforms like Instagram, Twitter, Facebook, etc.
10. Local outreach campaign, blogs, magazines, press releases, niche sites, local directories, etc.
Cheap SEO Packages For Fulham's Local Community (SW6 – SW10)
Our experts will move up your website's ranking in search engines to become more visible, get more leads and sales. No matter if you are a restaurant owner, a car part dealer, a nanny agency, a yoga teacher or sell arts, we can help you achieve your goals! Discover our professional SEO packages, and let's get started!