ChelseaSEO helps small local businesses and contractors to be more attractive online. Whether you are an accountant in Peckham, a barber in Dulwich, an estate agent in Walworth or offer professional services to residents of Southwark. As Google puts more focus on local companies, it's your time to act as your neighbourhood needs to find you.
There are more than 310.000 potential customers live in the Borough of Southwark. They are always looking for local shops, places and services, but if your website isn't appear in Google's map area or among the top results, you lose these people. Does your company show up at the top if you search your products or services on Google? It should, and we can help you about it!
What is Local SEO For Southwark?
SEO includes on-page and off-page techniques to improve the website's search engine visibility. It boosts the visitor numbers to get more leads or sales. Local SEO is the same, but targets a smaller region, such as Southwark or it's districts such as Bankside, Camberwell, Dulwich, Elephant and Castle, Kennington, Sydenham, Walworth, etc. According to Google's latest research, 84% of consumers conduct local searches. For instance, if you are a local carpet cleaner, ideally when somebody searches Google for "carpet cleaners near me" finds your website. Our London SEO specialists will work hard on your site to get better online presence, more traffic, qualified leads and increased sales.
How We Do a Local SEO Campaign
In-depth audit for your and competitors' websites
Build the best, smartest and long lasting strategy
Implement the latest know techniques
Review your website's progress over next months and change if need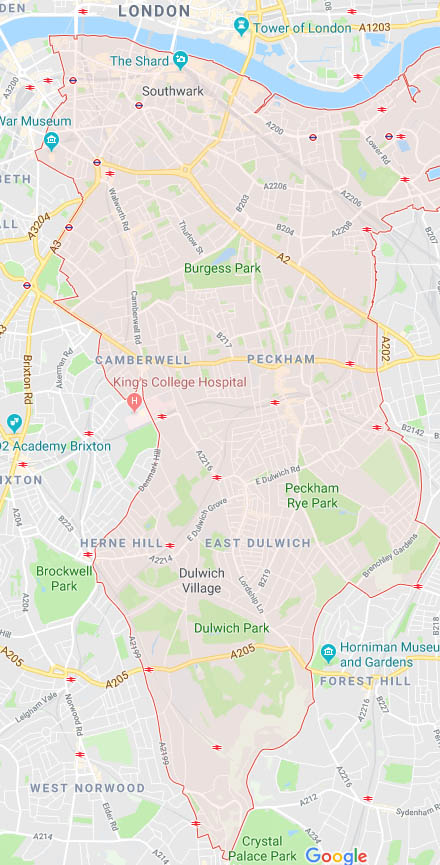 There is no easy and simple way when it comes to local SEO, businesses are unique with different need. Whether you are a law firm, a laser hair removal salon, or an interior decorator in Southwark, we can improve your online presence and help you dominate your niche. We won't stop with Google, we make your website ranked at the top of Yahoo and Bing too. Search Engine Optimisation isn't easy – if you don't have experience, premium paid tools like SemRush, Moz Pro, Ahrefs, or SeoProfiler, routine, you can't effectively work on it. That's why you will need a professional company!
A smart approach is important for any business who wants to be successful online. Our priority is to get listed in the top results of the "local map pack". Owning one of these listings, gets you brand awareness and more organic traffic.
Our Southwark Local SEO Approach
1. Make a website audit or design a new WordPress one. We examine your main audience, your business type, etc.
2. Apply modifications like locally optimised title tags, unique meta descriptions, header tags, optimised URLs, duplicate content check, fix website errors, creating a sitemap, image size reduction, img ALT tags, mobile friendly test, Google Search Console and Analytics registration, etc.
3. Nobody enjoys waiting, if your website is slow, potential customers might leave and won't come back, so we optimise the loading time. Additionally Google has already announced that speed is part of their ranking system.
4. Set your Schema Markup as it gives search engines useful data to display on the result pages such as type of business, ratings, opening hours, product prices, and so on.
5. Discover your competitors: how they are working and their strategy. Analysing their content, backlinks, citations, social profiles, etc. to make our approach better.
6. Keyword research is an important step, we look for keywords that have enough search volume, low competition and targeted to your area. In the beginning, we focus on Southwark, as in the competitive market of London, it will take at least nine months or more to show up on the top results of Google.
7. Updating your website and adding content in your niche with focusing to Southwark. Using our keyword research outcome, we create relevant, unique and insightful content about your business.
8. Continue with citation building, registering or optimising Google My Business, Bing Places, Yahoo Small Business, YP, Yelp, etc.
9. Start an outreach campaign (press releases, blogs, magazines, niche sites, local directories, etc.)
10. get influence and immediately positive result for your company with social media, we keep your profiles active on the platforms you already use, or we create profiles on Facebook, Twitter, Instagram, etc..
Cheap SEO Plans For Southwark (SE1)
Our skilled team is ready to boost your rankings in Google for more visibility, sales or leads. It doesn't matter if you are a local care home, dog groomer, or a financial adviser we can help you achieve your goals! Don't wait, discover our SEO packages, and let's start today!