You might ask how to do local SEO for your business in Lewisham? Welcome to the best destination for all your internet marketing needs. Our London SEO agency helps local contractors and small businesses to be more visible online. Give your business the exposure it demands by dominating the search engine rankings with ChelseaSEO! Whether you are a gift shop in Bellingham, a flooring contractor in Deptford, a joiner in Sydenham or offer professional services to residents of Lewisham, we provide you the best SEO solutions. Because Google gives more spotlight to local businesses, it's your time to act as your neighbourhood needs to find you!
According to Wikipedia, there are more than 295.000 potential customers live in the Borough of Lewisham. Local shops, services and contractors are always in demand, but when your website isn't listed in Google's map area or among the top organic results, you might lose these people. Does your website pops up if you search your products or services on Google? It should, and ChelseaSEO can make it happen!
You just cant afford to not invest in SEO, as it is an investment to the future of your company. If you run a PPC campaign for the chosen keywords, you will receive visitors, but have to pay for each clicks, and when you pause it, visitors stop coming. On the other hand, if you reached a top position with SEO, visitors are coming to your website continuously, and it's literally free traffic, you won't pay for these clicks. As PPC is always competitive, in the long term, SEO is a better solution.
What Local SEO Means For Lewisham?
SEO includes on-site improvements and off-site developments to reach higher search engine rankings. SEO improves organic visitor numbers, boost sales or qualified leads. Local SEO is the same, just it focuses to a smaller area, like Lewisham or it's districts like Catford, Deptford, Ladywell, Southend, Sydenham, Downham and so on. It's important to know that more than 80% of consumers conduct local searches on their mobiles, tablets or computers. For example, if you are a local landscaper, ideally when people search Google for "landscapers near me" find your website. Our London based team will work hard on your website to achieve the best online presence and to receive more organic traffic, increased sales or qualified leads.
How Our Best Local SEO Campaign Looks Like
Inspect your and competitors' websites
Develop the best and long lasting strategy
Apply on-site corrections
Do up-to-date off-site techniques
Check the progress over next few months and change if need
There is no simple solution when it comes to local SEO, every business are unique with different need and goal. Whether you are a psychic, a property management company, or a jeweller in  Lewisham, we can improve your online presence and help you reach your audience in your area, in London or in the UK. We won't stop with Google's first position ranking, we will dominate the other search engines like Bing and Yahoo too. Search Engine Optimisation can be hard, if you don't have experience, professional tools like SeoProfiler, Moz Pro,  Ahrefs or SemRush, you can't effectively work on it. That's where our expertise comes in!
A smart approach is crucial for any business who wants to be successful on the internet. Our first priority is to earn a spot in Google's "local map pack". Having one of these, will get more visitors and trust for your business.
The Local SEO Plan – How To Rank in Google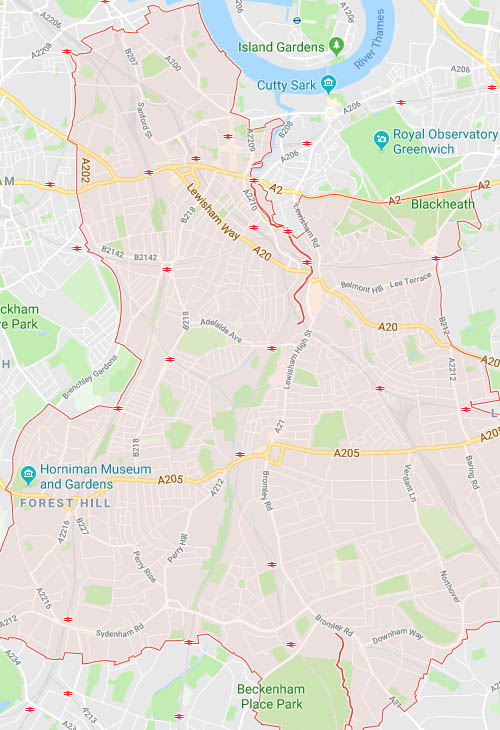 1. We study your business, niche market, target audience, services or products, etc.
2. In-depth site audit (on-page/off-page) or we develop a new WordPress website if you don't have yet.
3. Important site modifications, optimisations and checks. These includes fixing website errors, mobile friendly test, locally optimised title tags, unique meta descriptions, header tags, user experience improvement, URL rewrite, duplicate content check, image size reduction, ALT tags, Google Search Console and Analytics registration, sitemap creation, etc.
4. Schema Markup allows to display useful info on search engine's pages like type of business, ratings, opening hours, product prices, and more.
5. Waiting is boring, if your website is too slow, potential clients might leave and won't come back. Also page speed is already included in Google's ranking algorithm, so reducing loading times is very important.
6. Discover your competitors: what and how they do, their strategy, upgrade frequency. Study their website content, backlink profile, citations, social accounts, and more to improve our approach.
7. Keyword research is another aspect we take serious. We collect keywords with enough search volume, low competition and target to your location. At the start, we concentrate to Lewisham, as in the competitive market of London or the whole UK, it will take at least nine months or more to show up on the first pages of Google.
8. Updates are also important, we add new content to your website focusing to Lewisham. According to our keyword research, we write unique, relevant and insightful texts about your products or services.
9. This step involves local citations, register and/or optimise Google My Business, Bing Places, Yahoo Small Business, Yelp, Freeindex, Yellow Pages, Cyclex, Brown Book, Thomson Local and other popular directories.
10. Start an outreach campaign for more visibility (press releases, blogs, online magazines, niche sites, etc.)
11. Getting the power of social media for influence and immediately positive results. We keep your profiles active across the platforms you already use, or we create new accounts on Facebook, Twitter, Instagram, etc..
Tested SEO Plans For Lewisham (SE13)
Our London based expert team is ready to improve your rankings in Google for more visibility, sales or leads. It doesn't matter if you are a washing machine repairer, a model agency or a glazier, we can help achieve your goals! Explore our best SEO packages we offer, and let's get started!